Figures are analysed a lot on the basis of dossier knowledge.
Example: Oh yes, the 'fees' section has dropped by 25% because we've taken over the dossier and we work much faster with Win Acc than the previous accountant/book-keeper.

Did you know that it is possible to centralise all that knowledge in the 'Analyses' document with just one click of the button?

How do we do that?
Simply by creating a 'Text detail' on the accounts where we wish to give some extra clarification.

Yes, you've read it! That's it.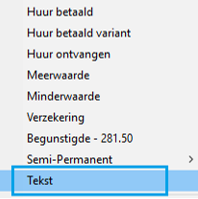 In the 'Analyses' document we then centralise all this information from the work papers. Your analysis is supported automatically and is ready for further discussion.

We only select 'Retrieve from work papers'





Or press the button 'Retrieve via work papers'.